Most candles found in shops are chemical, non-natural and industrially produced mostly composed of paraffin (paraffin is a residual product of highly toxic and polluting petroleum industry!).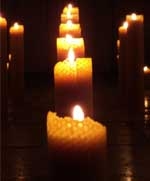 L'Alchimie des Bougies (Alchemy of Candles) offers 100% pure natural beeswax candles, a fabulous healthy, environmentally friendly and completely natural alternative to commercial industrial and toxic candles.
The candles are only composed of French beeswax, are made by myself, handcrafted in Brittany area, France. All candle wicks are 100% cotton.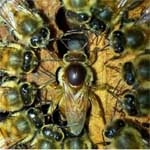 Beeswax is one of the rarest and finest materials offered by nature thanks to the hard work of bees and beekeepers. My goal is to make you discover and appreciate these all-natural candles, made with love, burning a beeswax candle is completely safe for your health, and your indoor environment!

In addition to their beautiful appearance, with their golden yellow color, beeswax candles have a purifying effect on the air, emit a pleasant natural scent of beeswax and beautifully brighten your home with their strong brightness, recalling sunlight. A beeswax candle has greater burning times than other types of candles. Burning a pure natural beeswax candle favors a peaceful and well-being atmosphere, soothing and comforting.
You will quickly discover that burning a natural beeswax candle from L'Alchimie des Bougies will simply become a sacred act!